Almost all of us will be shopping online for Christmas presents this year, according to a new survey the results of the latest e-Customer Service Index (eCSI) reveal that consumer confidence in online shopping has grown as 93% of people plan to click online for their Christmas gifts this year, with more than a quarter planning to do more shopping online than last year.
Whether you're an established bricks-and-mortar business wishing to add the Internet as a sales channel, or a start up business planning to sell your products or services exclusively on-line, Karova enables you to offer your customers truly positive shopping experiences. What's more, we can integrate with desktop accounting packages, fulfilment centres and on-line payment providers to enable you to manage your stock, accounting and payments simply and efficiently.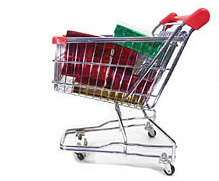 There are many ways in which we can help businesses benefit from the Internet economy:
We can either build you a bespoke solution or provide a number of open source solutions to meet your budget
We design and build online stores which allow store owners to manage content and product ranges easily and flexibly
We can provide bespoke features and integrate with your existing back office systems
We can provide everything from Karova Store accessible e-commerce software to a fully managed service including consultancy services, product sourcing and website promotion
We can seamlessly integrate with existing fulfilment and payment suppliers, or help you source them if you're not already trading online
We can provide simple, affordable domain naming and hosting services – including virtual, dedicated and managed hosting
All this adds up to an online store that your customers can find and explore easily, meaning you're able to provide an exceptional online experience that turns browsers into buyers. What's more, management and reporting couldn't be simpler.
Take a look at some of our E-commerce sites, www.homebargains.co.uk www.woodlandtrustshop.com
If you'd like a member of the 3X team to contact you to discuss your online trading needs, please Contact us